About Bosch Group
The Bosch Group is a leading global manufacturer of automotive and industrial technology, consumer goods, and building technology. In fiscal 2005, some 251,000 associates generated sales of 41.5 billion euros. Set up in Stuttgart in 1886 by Robert Bosch (1861-1942) as "Workshop for Precision Mechanics and Electrical Engineering", the Bosch Group today comprises a manufacturing, sales, and after-sales service network of more than 280 subsidiaries and more than 12,000 Bosch service centers in over 140 countries .
The Automotive Aftermarket division of Bosch's flagship Motor Industries Company Limited, today inaugurated the first ever Bosch Diesel Centre (BDC) in the country, at Ahmedabad which will be an end-to-end service provider for all diesel vehicles. Apart from being an expert in the repair of conventional diesel injection pumps and components, it is well-equipped to repair all Bosch systems and components such as Electronic Diesel Control pumps & Common Rail pumps both on and off the vehicle.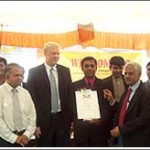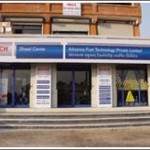 Advance Fuel Technology, located at Sarkhej, Ahmedabad is spread over a sprawling 5000 sq. ft. of land, and has begun this centre with a work force of 20 personnel and an investment of Rs 20 million. Mr. Odd Joergenrud, Vice President, Asia Pacific Automotive Aftermarket Division, Robert Bosch Pt Ltd (SEA) Pte Ltd present at the inauguration of the first BDC said "There are approximately 500 Bosch Diesel Centers in the world including 35 in the Asia-Pacific region alone. This is the first of its kind in India which exhibits its highest level of capability with its round the clock service." Bosch plans to open another 5 more centres in the coming year, depending on market conditions and future customer needs.
Mr. Ravi Krishnamurthi, Business Head, Automotive Aftermarket, Motor Industries Company Limited (Mico) said "With the state-of-the-art testing and repair equipment imported from our parent company, the BDC, initiated by our esteemed channel partner is authorized for all Bosch after sales service and warranty work on diesel powered vehicles." At any given point of time, the center is well-equipped to service large number of modern cars and trucks as also provide regular diagnostics and repair diesel & auto-electrical units.